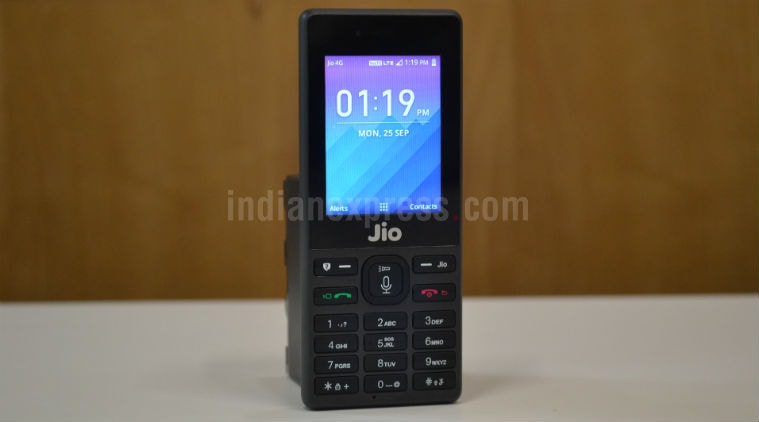 Reliance JioPhone with 4G VoLTE capabilities is a feature phone unlike any other in the market. Here's our first impression of the Reliance Jio Phone.
Reliance JioPhone with 4G VoLTE capabilities is a feature phone unlike any other in the market. This is supposed to be a big disruptor for India, which could ensure that even feature phone users in the country come on the 4G VoLTE network. For Reliance Jio, the Jio Phone is a necessity, after all their entire network is based on 4G VoLTE. There's no 2G or 3G like other players. In order to get the feature phone user base, which is still a large majority of users in India, the JioPhone is needed.
We had a chance to see the Reliance JioPhone in action. Now officially deliveries have started for this device and it looks like the focus is on the rural areas, with urban areas and metros being second in the list. This makes sense given the feature phone base is larger in these areas. Also Reliance Jio has not resumed pre-bookings for the Jio Phone and there's no word on when this will happen.
Here's what we learnt about the JioPhone and what it offers to users.  Now JioPhone is supposed to be free. However, the phone can be purchased with a refundable security deposit of Rs 1500 which will be returned after three years, provided the user hands over the JioPhone, which will have to be in a working condition.
First, the JioPhone will also come with a pre-loaded Jio SIM and users will have to get a Rs 153 recharge when they first buy the feature phone. Again Aadhaar data or eKYC will be needed to verify and activate this feature phone. JioPhone users who get this recharge will get unlimited voice calls, video calls, SMS and 1GB data per day. Initially Jio had said the plan would be limited to 500 MB data per day, but as we saw with the Reliance JioPhone unit that was shown to us, the limit now stands at 1GB per day.
Users can't put in another network's SIM on this JioPhone. However, if you have an earlier Jio SIM that can be used on the feature phone. JioPhone comes with a dedicated battery, which has to be inserted in the device, a charger in the box, a SIM inside the phone and there's also a dedicated microSD slot.
Reliance JioPhone has a 2.4-inch QVGA display (320 x 240 pixels). It has a dual-core processor which is either Spreadtrum 9820A or Qualcomm's Snapdragon 210. The phone has 512MB RAM on board and 4GB on board storage. The microSD storage support is 128GB and there is a separate slot for this. The phone has a front camera which is VGA resolution, and the rear camera is 2MP. The phone has a USB port for charging, speaker, FM Radio, torchlight, and SOS option as well. The battery is 2000 mAh.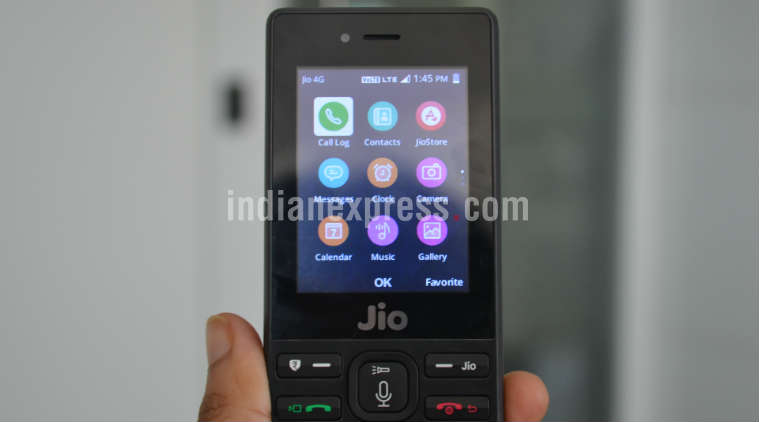 Reliance JioPhone has a 2.4-inch display and is powered by KaiOS.
JioPhone runs on the KaiOS and is already pre-loaded with many apps from Jio itself including JioPay, JioTV. There's also a voice assistant on board called HelloJio, which users can interact with to carry out some basic actions on the phone like send a text message to someone. The voice assistant has support for Indian languages as well and one can go into the settings to change this. The list includes Hindi, Assamese, Bengali, Gujarati, Kannada, Kashmiri, Konkani, Malayalam, Oriya, Punjabi, Tamil, Telugu, Urdu, etc.
Reliance JioPhone Apps: Is Facebook coming to this?
It looks like Reliance JioPhone could soon have a dedicated Facebook app on it, similar to the Facebook lite version on Android. Currently though, the only way of accessing Facebook on the JioPhone is via the internet browser. Does this mean WhatsApp will also appear on the JioPhone soon? If the Facebook Lite app does make an appearance, don't be surprised to see WhatsApp next on this 4G feature phone.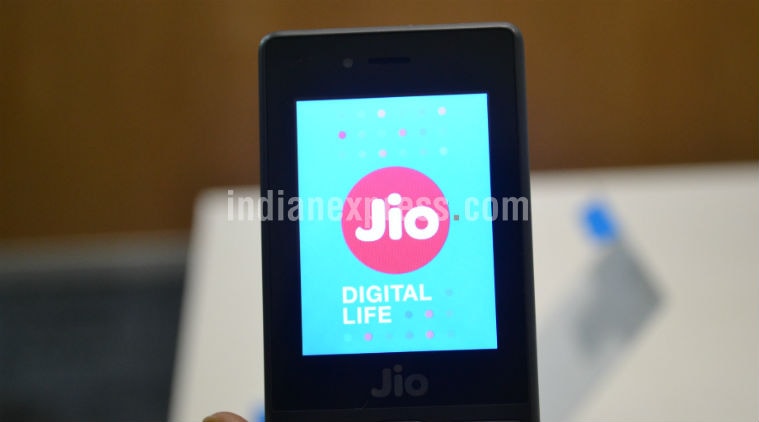 Reliance JioPhone deliveries have officially begun, according to the company.
The OS on the JioPhone as we've pointed out is KaiOS and this is a forked version of the Firefox OS. KaiOS is based on Linux kernel. Reliance JioPhone doesn't have too many third party apps right now and the phone is currently powered by Jio's own apps. JioTV app works on this and since the phone is on the Jio network there is no buffering. JioCinema app is also available on this. All the content is powered by Reliance itself.
Reliance JioPhone: Special features
Reliance JioPhone also has support for WiFi, which is interesting to see in a feature phone. So if a user runs out of data and has access to WiFi at home, they are given the option to switch to this. There's also a Hotspot feature in the JioPhone and it has support for Bluetooth 5.0, which is the latest standard. Reliance Jio plans to introduce NFC payments to this in the future as well. So while this a feature phone, the JioPhone does pack some things which have become standard on smartphones.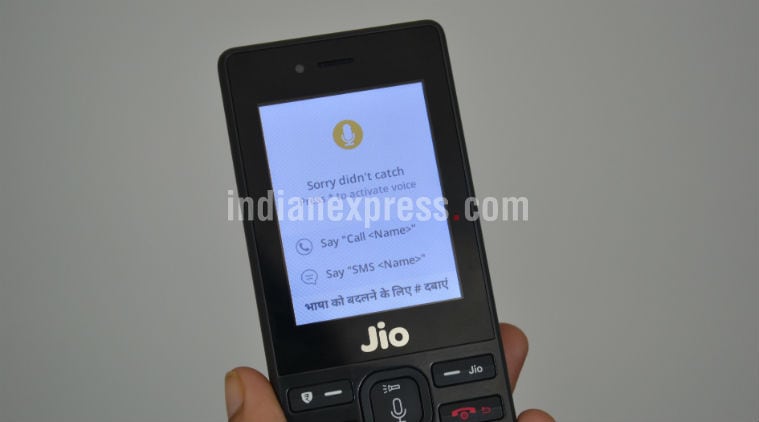 Reliance JioPhone voice assistant feature.
Reliance JioPhone: So who should be getting this phone? 
In the limited time, we had with the Reliance JioPhone, we could see this is impressive and unlike any other feature phone in the market. Of course compared to an actual smartphone this is very basic, but essentially users who buy this will get 1GB data per month for Rs 153. On a feature phone that's not bad at all. Apps like JioTV, JioCinema loaded very smoothly. There's also around 1GB storage space on the phone even with all the apps pre-loaded, which is again impressive for a feature phone.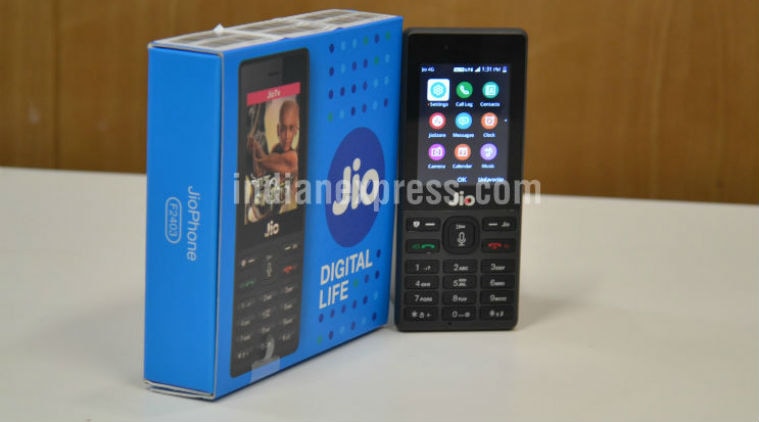 Reliance JioPhone with the retail box next to it.
But this phone is not for smartphone users. Those who can afford to pay Rs 5000 and above for a smartphone should stick to this. The JioPhone is strictly meant for the audience that is still comfortable with feature phones and has not moved to smartphones. There could be various reasons for this, from affordability to level of comfort with using smartphones. The JioPhone in thus filling a space, where it offers people on feature phones a lot more capabilities, but at an affordable price. Now how it actually performs and how many units end up getting delivered is something we'll have to wait and watch.
Source by:-indianexpress